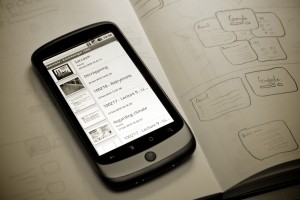 It's no secret that Google has big plans for the future of the mobile web. And really, why shouldn't it? Even a brief look at the numbers is enough to make it clear that smartphones and tablets are the future of Internet browsing – possibly even of general computing.
To that end, the company's launched a new initiative, known as the Accelerated Mobile Project (AMP for short). Together with partners including Twitter, Pinterest, Chartbeat, Parse.ly, Adobe Analytics, Linkedin, and – perhaps most interestingly – WordPress.com, Google wants to change the landscape of mobile web development. The first step in that?
Establishing AMP as the new standard for web design.
"The core of the project," writes Simon Sharwood of The Register, "is AMP HTML, a spec that restricts some elements of HTML, JavaScript, and CSS. AMP tech lead Malte Ubl writes that Google and publishers asked themselves "could we develop a restricted subset of the things we'd use from HTML, that's both fast and expressive, so that documents would always load and render with reliable performance?"
"The existence of AMP HTML tells you the answer was yes," he continues.
According to Ubl, eliminating traditional JavaScript – and some elements of the other two languages – will make for smoother, faster browsing, free of the often 'jarring' and 'janky' experience offered by current-gen websites, as mobile browsers don't have to contend with multiple complicated scripts on a single page.
""This is a project of real ambition," Guardian News & Media Chief Strategy Officer Tony Danker is quoted as saying on the AMP Project Page. "It seeks simultaneously to create a great user experience, to give more autonomy to publishers to deliver that and to develop effective advertising for the mobile web. Achieving these in tandem will be vital to building a more sustainable ecosystem where great journalism can flourish. We are keen to see it succeed."
Google has also pitched that AMP HTML will make mobile advertising much easier to pull off – though the question remains as to whether or not that's really a good thing. The issue here, notes Sharwood, is the fact that mobile ad revenue is traditionally downright abysmal (and digital advertising doesn't fare much better). A new programming framework, however promising and positive for the end user, isn't really going to fix that.
"Faster page load times are desirable and will likely keep audiences around for longer," he concludes. "Whether they can deliver revenue is another thing entirely."
Still, Google's got its head in the right place, at least. Mobility's bigger than ever, but the Internet isn't evolving quickly enough to keep pace with that. AMP could be just the kickstart it needs – particularly given who's backing it.
As for what the future might hold? Personally, I wouldn't be surprised to see AMP show up as a ranking factor at some point in the future. Of course, that's mere speculation on my part – the only one who really knows where all this is going is Google.