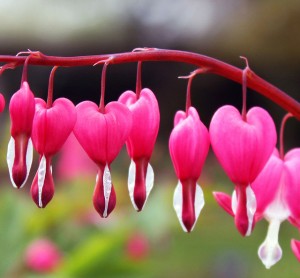 There was definitely some rain last month, but ultimately this April will probably be remembered for the Open SSL Heartbleed bug and a major Internet Explorer vulnerability, not the showers. Although those stories dominated the press this past month, there was still a variety of other significant news and happenings. So, as usual, we've gathered up the best SysAdmin, hosting, security, and enterprise IT content for your convenience. If you'd like to keep up with the same great content on a daily basis, feel free to follow us on Facebook, Twitter, or Google+. Here are the best articles from April. Enjoy, and let us know if we missed anything notable in the comment section.
System Administration
Website Admins Will be Busy Dealing with Heartbleed – Website and server administrators will have to spend considerable time, effort and money to mitigate all the security risks associated with Heartbleed, one of the most severe vulnerabilities to endanger encrypted SSL communications in recent years.
Is Ruby on Rails the Best Run Open Source Project on GitHub? – tenXer is releasing a series of public dashboards for open source projects to help expose metrics that give insight into the performance of open source projects. Today, we are launching the dashboard for Ruby on Rails.
Managing farms of MySQL servers with MySQL Fabric – While built-in replication has been a major cause for MySQL's wide adoption, official tools to help DBAs manage replication topologies have typically been missing from the picture.
Sysadmin Tips and Tricks – Stop Using Root! – A common mistake newer Linux system administrators make is the overuse of root. It seems so easy! Everything is so much simpler! But in the end, it's not—and it's only a matter of time before you wish you had not been so free and easy with your super-user, use. Let me try to convince you.
What's left of NoSQL? – Back in 2013 The Register reported that Google sets its bets on SQL again. On the first sight this might look like a surprising move because it was of all things Google's publications about MapReduce and BigTable that gave the NoSQL movement a big boost in the first place.
How to Set Up and Secure Apache Web Server Under CentOS – Apache is still the most popular HTTP server on the Web. Let's see how to set up Apache securely on a CentOS server to host multiple virtual websites.
Enterprise IT
Enough of the Cloud Already, What's Next for Enterprise Technology? – Business leaders interested in the future of enterprise technology should stop thinking of "the cloud" as a noun and start thinking about "clouding" as a verb.
The Mainframe Turns 50, or, Why the IBM System/360 Launch was the Dawn of Enterprise IT – In many ways, the modern computer era began in the New Englander Motor Hotel in Greenwich, Connecticut. It was there in 1961 that a task force of top IBM engineers met in secret to figure out how to build the next-generation IBM computer.
How the Cloud Changes Enterprise Tech – At today's Bloomberg Enterprise Technology Summit, there was a lot of discussion about moving to the cloud and how that impacts businesses and the IT infrastructure that supports it.
UX in the Enterprise: Building Software People Actually Use – For too long, enterprise software has been unintuitive, ugly and even unusable. Now that's changing, with a focus on internal communications platforms.
The Enterprise Products with Disruptive Potential for 2014 – While there are plenty of new products emerging to challenge organizations in the way they plan, drive, deliver, and support the business, it helps to understand the leading players.
Google Glass Sets Its Sights On The Enterprise With 'Glass At Work' Program – Google has a vision for Google Glass, and it's not just about making a consumer-friendly wearable device. Google also wants the device to appeal to businesses that want to use Glass to serve their customers and improve their bottom line.
Hosting
3 Benefits of SSD Web Hosting – Solid state drives have dropped in price and the performance benefits to desktop users are immediately obvious to anyone who owns one: your computer will fly. But does this translate into benefits to a website when utilising SSD hosting?
Apple Buys Tiny Dams to Power Its Data Centers – Apple is buying up a hydro-electric project in Oregon, hoping to lock into an environmentally sustainable way of powering its massive data centers.
What Will The Data Center of 2025 Look Like? – What will the data center look like in 2025? Enterprise data centers will be much smaller, power densities will be much higher, and the majority of IT workloads will have moved to cloud computing platforms.
Security
Everything You Need to Know about the Heartbleed SSL Bug – Massive. Huge. Catastrophic. These are all headlines I've seen today that basically say we're now well and truly screwed when it comes to security on the internet.
Your Internet Security Relies on a Few Volunteers – Last week's Heartbleed Internet bug revealed a startling fact. The software protecting banks, email, social media and government is maintained by only a few people.
5-Year-Old Finds Xbox Security Flaw, Becomes Microsoft Researcher – A boy works out how to get into his dad's Xbox Live account without a password. Microsoft not only plugs the flaw but appoints Kristoffer Von Hassel as a security researcher.
A Letter to My Daughter: Your Privacy in the Age of the Internet – Millennials are growing up with very different ideas about privacy and information security than those of us who actually built the digital world we now live in.
What can't you do with a Raspberry Pi? As this video shows, you can make yourself a new cell phone (aka the PiPhone).