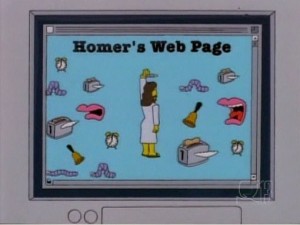 Starting in January and continuing to the recent Sony breach, the year of 2014 has certainly been dominated by security news. This is a topic that has a broad impact on a variety of areas, including our other roundup focuses of System Administration, hosting, and enterprise IT. Giving a preview of this month's best content, some posts we included look back to the year that was while others look forward to the year that will be. And if you missed it, the Simpsons celebrated it's 25th Anniversary recently. Who remembers Homer's internet company, Compu-Global-Hyper-Mega-Net? Here are the most relevant, informative, and fun articles from December. For the same great content, follow us on Facebook, Twitter, or Google+ the rest of the month. Enjoy, and let us know if we missed anything notable in the comment section.
System Administration
The 25 Hottest Skills That Got People Hired in 2014 – Believe it or not, 2014 is almost over and 2015 is right around the corner. With a new year comes new opportunities, and around this time we at LinkedIn are typically asked the following question: "Who's getting hired and what are they doing?"
You Should Be Thankful for Your Sysadmin: 10 Reasons Why – During the holidays, we often forget to be thankful for those who keep the lights on and maintain network applications so that they run smoothly 365 days a year: our system administrators, or sysadmins, as they are sometimes called.
Gain Experience as a Volunteer SysAdmin on an Open Source Project – You won't learn to swim by reading a book on swimming, so when you're looking to bolster your experience while preparing for a Linux certification, open source projects are a good place to dive right in.
The 12 Days of Unix – Your first twelve days using Unix can be some of the most eye-opening and insightful days in your career.  How do you pass on the excitement of Unix to new users?  You sing to them!
Enterprise IT
Apple and IBM — the New Enterprise IT – Apple and IBM have introduced their autumn collection of elegant, contextual and transactional enterprise-class apps designed to bring intelligent intelligence to business in the Big Data age.
Is Enterprise IT More Difficult to Manage Now than Ever? – I've been thinking about enterprise IT a lot lately, and I've decided it's time to recognize just how difficult the job is becoming. I've been covering technology for longer than I care to admit, and I can't remember things ever being this hard in the world of corporate technology.
Top 6 Trends That Will Shape Enterprise IT in 2015 – The IT landscape is becoming even more complex. It seems every year businesses are confronted with even more issues and potential pitfalls that they need to navigate around – not only to remain competitive, but to avoid the loss of reputation and customer trust.
Forecast: Workplace Trends, Choices and Technologies for 2015 – What's in store for 2015 when it comes to technology advances in the workplace? Box growth in a number of nascent technologies accurately describes 2014. This next year will see these technologies broadly deployed, but with that deployment will come challenges and choices to make.
Hosting
Eliminating Downtime: Six Key Considerations for Your Hosting Architecture – There was a time when conventional wisdom held that network downtime was unavoidable, and while it could be minimized, it was next to impossible to eliminate. However, for companies that rely on their network being up 24/7 in order for their business to run, any downtime, no matter how minimal, is unacceptable.
Linux, the Overweight King of Cloud: Will This Change Anytime Soon? – Nick Hardiman argues that the problem with Linux is that multi-purpose distros, which are great for cloud computing jobs, are making the server OS fat.
Bare Metal Servers Could be the Cloud Solution you Need – Cloud computing may seem like a modern tech fad but the concept actually dates back to the 1950s. This was when large-scale mainframes were first made available outside of development labs to larger organisations like schools and corporations.
Security
SoakSoak Malware Compromises 100,000+ WordPress Websites – This Sunday has started with a bang. Google has blacklisted over 11,000 domains with this latest malware campaign from SoakSoak.ru.
Five Quick Tips to Improve WordPress Security – Popularity has both good and bad consequences for WordPress. A major negative consequence is that every hacker on the web knows that if they can exploit a WordPress vulnerability, they will have the keys to many millions of WordPress sites.
How Resilient is the Public Cloud? – The fact that some Microsoft Azure services were offline following an update in November illustrates the precarious juggling act CIOs must perform in the cloud era.
A Breakdown and Analysis of the December, 2014 Sony Hack – On November 25, a new chapter was added to the chronicles of data theft activity. A group calling itself GOP or The Guardians Of Peace, hacked their way into Sony Pictures, leaving the Sony network crippled for days, valuable insider information including previously unreleased films posted to the Internet, and vague allegations it all may have been done by North Korea in retribution for the imminent release of an upcoming movie titled "The Interview."
In honor of the recent 25th Anniversary of The Simpsons, we'll leave you with a scene from one of our favorite episodes.
Image Credit: Simpsons Wikia