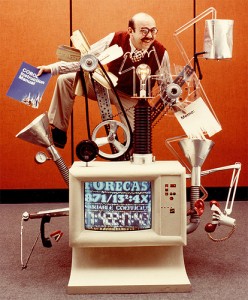 Now that we know the year that 2014 was,  lets take the lessons we learned and experience the year that 2015 will be. Although security was a major issue in 2014, it will continue to be a focus in the technology world and a major concern for SysAdmins moving forward. As such, the first issue of SysAdmin Magazine, that we have included in this roundup, has a security focus.  Enterprise IT is all about mobility these days, and we've shared a few articles that explain this evolution. And while web hosting becomes more and more about the cloud, the data center is not dead yet. However, it does need to adapt to a changing business environment. So without further ado, here are the most relevant, informative, and fun articles that we've found so far in January. For the same great content, follow us on Facebook, Twitter, or Google+ the rest of the year. Enjoy, and let us know if we missed anything notable in the comment section.
System Administration
Doom as a Tool for System Administration – As I was listening to Anil talk about daemons spawning processes and sysadmins killing them, I thought, "What a great user interface!" Imagine running around with a shotgun blowing away your daemons and processes, never needing to type kill -9 again.
21 New Year's Resolutions for Every SysAdmin – As 2014 comes to a close, many people start to think about their resolutions for the New Year. We've compiled this list of resolutions every sysadmin should make, and keep.
Linux/Unix: Some Iptables Examples For New SysAdmins – Linux comes with a host based firewall called Netfilter. According to the official project site: netfilter is a set of hooks inside the Linux kernel that allows kernel modules to register callback functions with the network stack. A registered callback function is then called back for every packet that traverses the respective hook within the network stack.
Security Comes First: Premier Issue of "SysAdmin Magazine" – Yes, this just happened. Now there is a new source of knowledge and a convenient go-to reference for all system administrators who are eager to keep a tight grip on network security.
Enterprise IT
2015: Enterprise IT Doesn't Have to be a Sci-Fi Dystopia – This week I had the pleasure of being a guest on NPR's Airtalk program, on the subject of Robert Zemeckis' 1989 film Back to the Future Part II and its predictions for the year 2015.
Mobility is on the Precipice of Radically Changing Enterprise IT as We Know It – If your organization isn't already on the mobility bandwagon, you are falling behind the curve of increased productivity and innovation.
3 Ways Enterprise IT Will Change in 2015 – The IT landscape is becoming even more complex. It seems every year businesses are confronted with even more issues and potential pitfalls that they need to navigate around – not only to remain competitive, but to avoid the loss of reputation and customer trust.
Enterprise 2.0: Why it Should Never Take Three Weeks to Make a Change to Your Web Application – "Would you like to slow down the pace of development of your products?" This was the question Adrian Cockcroft from Battery Ventures asked at the Nginx conference in October. The answer of course is "No".
Hosting
Why the Data Center Needs an Operating System – There was a time when conventional wisdom held that network downtime was unavoidable, and while it could be minimized, it was next to impossible to eliminate. However, for companies that rely on their network being up 24/7 in order for their business to run, any downtime, no matter how minimal, is unacceptable.
The 'Third Era' of IT Will Bring Massive Changes to the Data Center – Imagine you worked in a data center a decade ago and then moved to a remote island. Ten years later, you've returned and it's your first day back in the data center. You walk in and survey your surroundings. The servers have all been virtualized. Much of the software controlling them has changed.
2014: The Year of Infrastructure Vulnerability – I try to avoid doing new year industry predictions. In order to get any prediction mindshare, I have to wade pretty far out into the crazy water ("Paper currency is over!" or "This will be the year robots destroy all life!"), and the wetter I get, the less likely I am to be right.
Security
Hacked. A Short Story. – It all started when I was asked (as a freelancer) to configure exim4, so that newsletters would not fall into spam folders. They even sent me a link to a tutorial.
Google's 'Security Princess' on Hacking, Hiring, and Women in Tech – Parisa Tabriz leads the team that is in charge of protecting the almost one billion people who use Google's Chrome browser every day. No pressure or anything.
Factor in the People Side of Cloud Risk Management – Implementing a cloud risk management policy can be a daunting task. Make it easier by breaking down who will use the policy: SaaS users, PaaS developers, and/or IaaS network specialists.
Does Your Business Have A Mature Patch Management Strategy? – As we near the end of 2014, we can definitively say it's not been a great year for online security. Heartbleed and Shellshock were just the tip of the iceberg. WordPress is by far the most popular content management on the web, and the WordPress security company Sucuri has had a fruitful year mining it for vulnerabilities — there were lots.
There's been a lot of talk about personal and delivery drones recently. This month we'll leave you with the bird's eye view of one young man's drone journey.

Image Credit: Flickr User/Phil Manker