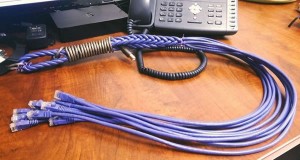 If you follow us on Facebook, Twitter, or Google+, you'll know that we like to share our favorite SysAdmin, hosting, security, and enterprise IT articles from around the web each month. Since the last time we caught up with you, we've globetrotted off to HostingCon Europe and talked about the bare metal cloud revolution. We've also seen the disclosure of the Shellshock and SSL 3.0 security vulnerabilities, which continued what has been a rough year for cybersecurity. Even so, the world keeps turning and news continues to be made. Here are the best articles from September and October. Enjoy, and let us know if we missed anything notable in the comment section.
System Administration
Make Linux Troubleshooting Easier – Sysadmins need to ensure their Linux servers perform properly. Check out these tips for choosing the right tool for the job, preventing rootkit attacks and more.
Delightfully Dystopian Sysadmin Warning Posters from the 1980s  – The 1980s were an interesting time in humanity's recent history. The Cold War was going strong, and personal computers were starting to make an impact on the lives of millions of people around the world.
Why CFOs Should Embrace SysAdmins – Traditionally, CFOs love developers because they create product. We tend to invest in developers, and expect efficiency from sysadmins. That's because CFOs often see IT as a cost center, and sysadmins as the people who keep the lights on.
Did You Buy Red Bull Over the Last Decade? Here's How to Get Your $10 – We thought this would be relevant to pretty much every SysAdmin out there 🙂
Enterprise IT
10 Trends Transforming Enterprise IT – When it comes to corporate IT, revolution is in the air. The way companies buy, build, manage, optimize and secure information technology is changing dramatically.
5 New Enterprise Open Source Projects to Watch – The open source software community is nothing if not prolific, and exciting new projects arrive on the scene practically every day. Keeping up with it all can be a formidable challenge; on the other hand, failing to do so could mean you miss out on something great.
Virtual Reality Gains a Small Foothold in the Enterprise – The rapid growth of the mobile sector has had an unexpected dividend – by bringing down the costs and improving the quality of motion sensors, screens, and processors it has helped usher in a new era of virtual reality technology.
High-Availability Load Balancing At A Fraction of the Price – This post is part of a series comparing InterWorx to other server and hosting management applications. Today,  we're going to take a look how InterWorx, compares to other enterprise scalability solutions.
Hosting
Best Practices for Moving Workloads to the Cloud – The rapid diffusion for the cloud computing paradigm and promised benefits for the adoption of cloud infrastructure are attracting a growing number of businesses and organizations.
Why InterWorx Is The Best Control Panel For Your Business – Aside from choosing your host, selecting your control panel is one of the most important decisions you'll make as a client. Whichever control panel you ultimately settle on, it'll have a direct impact on both cost of ownership and functionality.
11 Tips to How Businesses Can Avoid Getting Lost in the Web Hosting Maze – Many people believe that choosing a website hosting service is rather straightforward and simple, however that is not the case, because there are many factors to think about when purchasing web hosting.
Security
Maybe Better If You Don't Read This Story on Public WiFi – We took a hacker to a café and, in 20 minutes, he knew where everyone else was born, what schools they attended, and the last five things they googled.
How Hackers Took Over My Computer – We hear about hacking every day – but are individuals really vulnerable? Sophie Curtis volunteered to find out.
Hackers Are Already Using the Shellshock Bug to Launch Botnet Attacks – With a bug as dangerous as the "shellshock" security vulnerability discovered yesterday, it takes less than 24 hours to go from proof-of-concept to pandemic.
This POODLE Bites: Exploiting the SSL 3.0 Fallback – Today we are publishing details of a vulnerability in the design of SSL version 3.0. This vulnerability allows the plaintext of secure connections to be calculated by a network attacker. I discovered this issue in collaboration with Thai Duong and Krzysztof Kotowicz (also Googlers).
This month, we'll leave you with the Hobbit in LEGO in 72 seconds. Spoiler Alert if you haven't read the book.
Photo Credit: Reddit User Global Nerdy