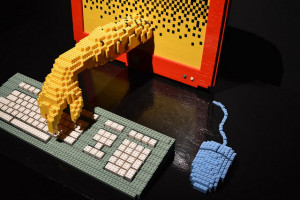 If we had to define the biggest theme on 2015 it would be hard to come up with just one, but easy to come up with quite a few. Cybersecurity, the Internet of Things, open source and Linux have all been at the forefront of the tech conversation over the past twelve months. This first roundup of 2016 looks back at some of these defining themes and looks forward to what we should expect in the year ahead. For the same great content, follow us on Facebook, Twitter, or Google+ the rest of the year. Enjoy, and let us know if we missed anything notable in the comment section.
System Administration
80 Linux Monitoring Tools for SysAdmins – The industry is hotting up at the moment, and there are more tools than you can shake a stick at. Here lies the most comprehensive list on the Internet (of Tools). Featuring over 80 ways to monitor your machines.
30 Years as a SysAdmin – Looking back after spending more than 30 years as a Unix systems administrator, I have to say that's it's been quite a ride. It certainly wasn't 30+ years of doing the same thing. Instead, the technology and the job have gone through incredible changes along the way.
A 1985 Essay from a Bulletin Board System Admin Eerily Foretold Our Future – Vintage futurists were a wild bunch. Reading their words now—decades after they first aired their hopes and anxieties for a future they couldn't have possibly foreseen—you're just as likely to think, "What were they thinking?" as you are, "Where did we go wrong?"
A Brief Guide to Starting Your IT Career as a Linux Sysadmin – According to the 2015 Linux Jobs Report, 97% of hiring IT managers are looking to add Linux talent this year. There are more than 50,000 open jobs on dice.com requiring Linux experience. And individuals with Linux experience are being recruited at an unprecedented rate. Learning Linux has never been more profitable or interesting.
Linux and Unix SysAdmins New Year's Resolutions (2016) – Today is the last day of 2015 and it's that time of year again. Here is my very own list of 12 resolutions for the New Year.
Enterprise IT
Where Do Mobile Apps Fit in the World of Enterprise Software? – While a recent study turns the idea of a 'blockbuster' app on its head, there's no doubt that enterprise companies are embracing apps – especially mobility apps – in a big way.
CEOs Weigh in With Enterprise IT Predictions for the New Year – It's been a big year in the enterprise technology space. From the continuing cloud wars, to the expansion of machine learning and big data adoption. Where is enterprise technology headed in 2016? CEOs are weighing in on some of the biggest changes and advances they expect to see in the coming year.
Apple, the Enterprise IT Company – Apple's enterprise business alone makes it one of the 15 largest tech firms. More importantly, the enterprise business sports a 40 percent annual growth rate. How did Apple do it?
5 Ways the Enterprise IT Landscape Will Change in 2016 – A new year brings new advances in technology, and 2016 promises to be a landmark year for IT. James Sanders predicts which innovative ideas are taking shape and are likely to appear this year.
Hosting & Cloud
The Cloud's Biggest Threat Are Data Sovereignty Laws – The beauty of the cloud is the promise of simplification and standardization — without regard to physical or geographic boundaries. It's this "any time, any place, any device" flexibility that is driving rapid adoption.
How The Internet Of Things Will Shape The Datacenter Of The Future – Everyone is talking about the Internet of Things (IoT) and developing a strategy to go after this market. There is a significant amount of focus by many companies to create more "things"—smart devices, wearables, and intelligent industrial endpoints.
Predicting The Future Of Cloud Service Providers – 47% of marketing departments will have 60% or more of their applications on a cloud platform in two years. When asked which Value-Added Reseller (VAR) is most likely to win their enterprises' business for a significant hosting project, the majority said IBM (18%) followed by Microsoft (11%), Amazon (8%), and Dell (7%).
Save Thousands of Dollars by Paying More for Hosting – We're going to show how you and your clients can save thousands of dollars a year by paying more for hosting. No typo. While helping our customers, we log in to many sites.
Security
The Kernel of the Argument – It took years for the Internet to reach its first 100 computers. Today, 100 new ones join each second. And running deep within the silicon souls of most of these machines is the work of a technical wizard of remarkable power, a man described as a genius and a bully, a spiritual leader and a benevolent dictator.
Why IoT Security Is So Critical – Twenty years ago, if you told me my phone could be used to steal the password to my email account or to take a copy of my fingerprint data, I would've laughed at you and said you watch too much James Bond. But today, if you tell me that hackers with malicious intents can use my toaster to break into my Facebook account, I will panic and quickly pull the plug from the evil appliance.
New Year's Resolution: 12 Months to Fix Your Online Security – Everyone loves the New Year. It is a chance for everyone to celebrate another year past with friends and loved ones, look towards a fresh start with a fresh calendar year or everyone's favorite – setting a New Year's resolution. You know the thing you say that you will do, but sometimes forget after the second week of the new year?
Let's Encrypt Enters Public Beta – Today marks a major milestone for the encrypted Web. Let's Encrypt, the free and automated certificate authority, has entered Public Beta. That means it's easier than ever for websites to adopt HTTPS encryption.
To end this month's roundup, we'll leave you with Spaceballs and Mel Brooks predicting our world's current password problems.
Image Credit: Matt From London