In the third of our series comparing InterWorx to other server and hosting management applications, we're going to take a look at branding customization and consider how cPanel measures up to InterWorx for hosts, resellers and agencies. If you'd like to see a detailed comparison of InterWorx 5 with cPanel, Parallels Plesk, and DirectAdmin, take a look at our comprehensive comparison matrix.
Many types of organization offer hosting services: web hosting companies, design and development companies, agencies of various types, educational institutions, and so on. Each of those organizations strives to create a brand by which they are recognized. A brand isn't just about having nice logo; it's about a set of values and the way those values are communicated.
The nice logo, color design, typefaces, and so on are the visible manifestation of a brand. They're what makes a company recognizable. A cohesive and coherent brand communicates an identity and instills a sense of professionalism: your hosting business isn't just a temporary operation built of disparate components—it's a real, concrete, and identifiable entity.
The majority of a hosting client's interaction with their host will be via the server or hosting management application, so it's important that it has the same identity and branding as the rest of the company.
Let's get cPanel out of the way first. There is no easy way to comprehensively brand cPanel. That was quick.
InterWorx on the other hand, makes it quite easy with a CSS-based theme system. Out of the the box, InterWorx includes a number of themes that can be downloaded and applied, much as with WordPress and other content management systems (but much simpler).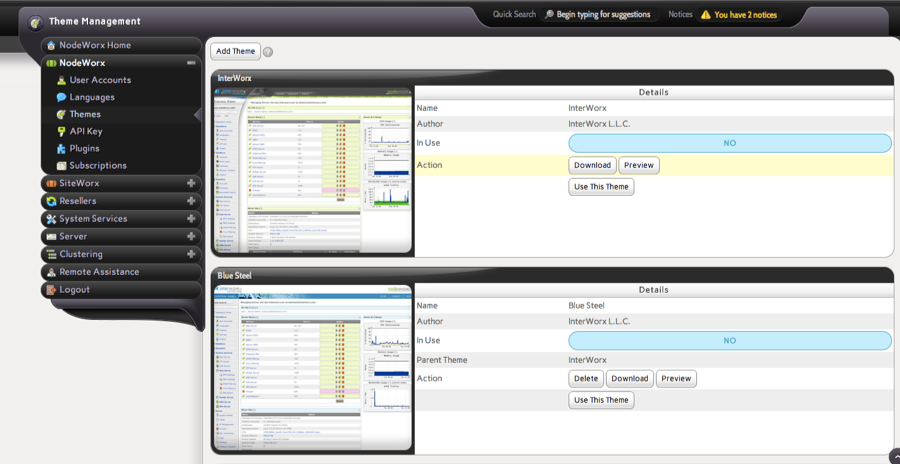 To create a new theme, users can take one of the existing themes as a base, they're simple CSS and HTML files, then make whatever edits are necessary, zip the theme back up, and install as normal. Because the themes are CSS based, they're incredibly flexible, making it easy to create a server management interface that is consistent with a business's branding.
InterWorx' customizability and themability are the result of our team's thoughtful attention to the real world needs of hosting providers — if you want to know more about theming, take a look at the InterWorx theming guide.
This post is part of a series in which we look at how InterWorx compares to other leading server management applications. There are more to come, so subscribe to the feed or follow us on Twitter or Facebook to hear the latest.