This post was submitted by Ian, an IT consultant with over 7 years of experience in cloud storage and networks. You can email him at
ianmcgrath@gorumors.com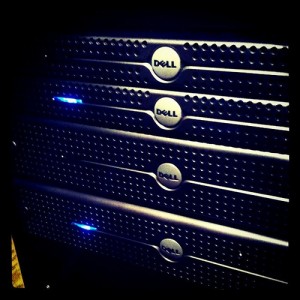 This has not been a great year for server makers like IBM, Dell and Oracle. According to the latest numbers released by the market analyst firm IDC, the worldwide server market revenues has dropped by 3.7% in the third quarter of 2013. This is not a one-off blip either. The revenues in this market has fallen continuously on year-on-year basis for the third time in as many quarters. The revenues of IBM, Dell and Oracle dropped 19.4%, 6% and 16% respectively while the market leader, Hewlett Packard saw revenues rise marginally by 1.5%.
So what exactly is happening? The IDC study points out the changing dynamics of the industry that, for long, has been dominated by behemoths like HP and IBM. The market share of these companies are being slowly and steadily lost to lesser known Asian companies like Quanta Computer, Compal, Inventec and Wistron Group. These are the original design manufacturers (ODM) who manufacture white labeled servers that are branded and sold by the industry leaders including HP and IBM. The revenues of these ODM companies saw a rise of nearly 45% during the latest quarter.
This shift in dynamics is a direct outcome of the growing popularity of cloud based web services. As more and more businesses tie up with cloud based service providers, there is a falling need for these enterprise businesses to house their own servers. Consequently, the ODMs who have traditionally sold their servers to the branded industry leaders are today selling their wares to the large cloud-based service providers like Google, Microsoft and Amazon. These providers own massive, ever-growing datacenters that house confidential information proprietary to their customers in a safe and secure environment.
According to a Forrester study, the cloud computing market will reach $150 billion by 2020. For a perspective, this was simply a $35 billion market in 2011. IDC predicts that at least 40% of the data in 2020 will be "touched" by cloud at least once. Given these staggering numbers, and also the current market dynamics where traditional server manufacturers are losing out to the lesser known ODMs, it is high time the likes of HP, Dell and IBM aggressively push forward on their cloud strategy.
Consider HP – the company has projected revenues from their cloud servers to reach $8.4 billion from the present $4 billion by 2015. While this is spectacular growth, it is still not high enough to meet the overall cloud server demands. Given the rise of a number of server alternatives; especially in the cloud, what this could mean is that Hewlett Packard could soon be conceding its industry leader position to a company that is outside the top 3 at the moment. This could especially turn out to be true if the cloud migration strategy of HP's clients are more aggressive than the company's.
Take the example of Silanis – a leading provider of on-premise and cloud-based electronic signature services. Independent studies have predicted the SaaS based electronic signature offerings to grow from 5% of the market in 2009 to 50% by 2014. That is a growth of 900%. It is quite likely that a company like Silanis that is in such an aggressive market would be forced to switch server providers if their vendor does not make as many cloud servers as they would need.
One company to watch out for in the near future shall be Cisco. Cisco has primarily been a manufacturer of cloud computing infrastructure and sells more wares than HP, IBM or Dell. This company has recently announced a hybrid cloud infrastructure that is touted to be spy-proof; a concern that has been creating a lot of buzz post the NSA espionage revelations. While Cisco has not revealed its targets for the growth of their Cloud Fusion project yet, it will be interesting to see how the company leverages its existing position in cloud infrastructure to move up the ranks in the server industry.
Photo Credits: Mike Shelby