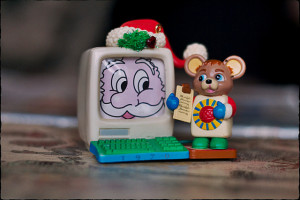 So the big news since our last roundup is clearly the release of Star Wars: The Force Awakens. We've shown all the restraint we possibly could and did not make this roundup a collection of Star Wars inspired advice for SysAdmins, hosting companies, and the enterprise. We did manage to sneak in some Star Wars fun at the end though. So looking forward to 2016, here are the most important stories from the worlds of enterprise IT, security, hosting, and system administration from the last month. For the same great content, follow us on Facebook, Twitter, or Google+ the rest of the year. Enjoy, and let us know if we missed anything notable in the comment section.
System Administration
Linux Performance Analysis in 60,000 Milliseconds – You login to a Linux server with a performance issue: what do you check in the first minute? At Netflix we have a massive EC2 Linux cloud, and numerous performance analysis tools to monitor and investigate its performance. These include Atlas for cloud-wide monitoring, and Vector for on-demand instance analysis.
10 Helpful Tools for a Sys Sdmin's Toolbox – Sys admins, no matter what platforms they work on, are awash in great open source software tools. In this article, we highlight well-known—and not-so-well-known—tools that have released new versions in 2015.
Linux Performance Analysis in 60,000 Milliseconds – An open source projects aggregator for system administrators.
Enterprise IT
Top IT Trends to Watch in 2016: Accelerating the Digital Enterprise – Social, mobile, cloud, analytics, Internet of Things, and bimodal IT. All hot topics in our industry, which divide IT functions and teams in organisations worldwide. Where do you prioritise your budgets and resources?
Forget Hardware, Forget Software, Forget the Infrastructure – Enterprise IT has to forget about hardware, forget about the infrastructure, forget about software, and think more about getting their job done, which is delivering services or applications.
7 Enterprise IT Trends to Watch in 2016 – Worlds created entirely of clouds. "Unicorns" racing through new landscapes. Data moving faster than the speed of light. For those of you who don't work in enterprise technology, this may sound like a fantasy world—or a little like the latest Star Wars movie.
Hosting & Cloud
Infrastructure Pioneer Predicts Datacenter Days Are Numbered – If one were to scroll through the list of startups under the wing of Battery Ventures to get a sense of where capital is being pushed, it wouldn't take long to realize that of the over three hundred companies, almost all have hefty infrastructure requirements.
How to Evaluate Cloud Solutions vs. Legacy IT Operations – Enterprise executives are always facing new challenges when it comes to running their IT operations. Today, this is especially true as the number and demand for new cloud applications spurs a corresponding complexity of service delivery models.
How Web Hosting Can Impact Page Load Speed – As soon as Google announced that page load speed had been added to its ranking algorithms, page load speed became a buzzword in the SEO community. Unbelievably, that was over five years ago now.
The 5 Greatest Risks Faced by Every Hosting Client – Business is all about calculated risk-taking. It's all about knowing what threats each decision you make will expose you to and working out how best to approach them. Web hosting is no exception to this rule.
Security
The Joy of Getting Hacked – Two weeks ago, the server I host all my personal projects on was hacked by some guy in Ukraine. It really sucked.
Cybersecurity Researchers Are Hunted from All Sides – Cybersecurity researcher Peter Kruse, founder of CSIS Security Group in Denmark, thought his mother was calling. Her number appeared on his phone, but when he answered, it wasn't her. Instead, a male voice told him to stop what he was doing as a computer expert.
Let's Encrypt May Improve Security for Regular People More Than Any Other Initiative This Decade – Secure websites have always been standard for ecommerce companies like Amazon or Shopify, and in recent years companies that handle private communications like Google and Facebook have invested millions of dollars in enabling encryption for all users. But what about everyone else?
In Who Do We Trust? How Privilege Plays Out in Security and Privacy Online – In a digital world where most users have to choose between having their information stolen, or their internet activities monitored, it's clear not all of us are able to keep up with the latest measures to protect ourselves online.
Hacker Lexicon: Botnets, the Zombie Computer Armies That Earn Hackers Millions – Zombie armies aren't just invading movie screens these days. They're also taking over the Internet in the form of massive botnets.
To end this month's roundup, we'll leave you with a video that presents Star Wars with no Star Wars. Confused?
Image Credit: FFG