InterWorx has partnered with
CloudLinux
for quite some time, so we asked them to put together a short piece for our community on the benefits of CloudLinux and how it works with InterWorx. Have you ever tried it? Tell us what you think in the comments!
Reaching stability can be difficult and sometimes unachievable for many shared hosting companies. Sudden resource spikes, slow servers, and hacker attacks are some of the problems system administrators cope with every day. For years this has been accepted as a cost of doing business. However, it costs you money and, more importantly, results in losing your customers' trust. So maybe it is time to consider changing your OS to eliminate those costs?
Created in 2009, CloudLinux became the first commercial OS specifically designed for shared hosting providers. In its three years in the marketplace, CloudLinux has received numerous awards and has been praised by hundreds of shared hosting providers for resolving their stability problems. Web Hosting Search called it "The perfect OS for shared hosting." It is no wonder that today more than 1,000 companies successfully use CloudLinux on their servers. It is installed on more than 10,000 servers worldwide.
What makes CloudLinux so great?
CloudLinux is a proven solution for shared hosting that drastically improves server stability and security, increases density, decreases support costs, and prevents churn. It sounds like magic, but CloudLinux delivers these benefits by introducing the latest technology specifically crafted for shared hosting into its kernel. Combine these features with all its tools and InterWorx integration and it becomes a must-have for any shared hosting provider.
CloudLinux's unique technology:
gives the power to monitor and control limits, such as CPU, IO, and memory,
isolates users from each other, limiting their resources to avoid the "bad neighbor effect,"
prevents users from viewing configuration files and other private information, and
helps to restrict and throttle MySQL database abusers.
CloudLinux and InterWorx
InterWorx has been a partner of CloudLinux for some time, and after it's installed, using CloudLinux is as easy clicking on a menu item: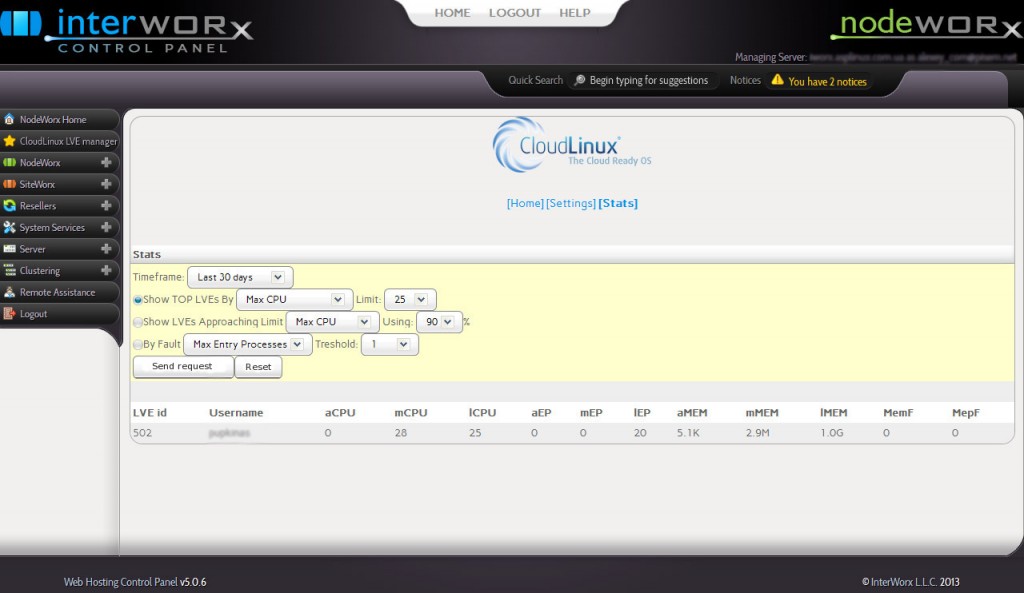 Installing CloudLinux on a server you intend to run with InterWorx is a basic, 3-step process:
Install CentOS
Install InterWorx
Install CloudLinux
That's it!
Wrap Up
All these features, in addition to regular technical updates and exceptional 24/7 support, make CloudLinux a great value for any shared hoster. Installation to existing servers is also easy and results in only minimal service disruption (a simple reboot).
Try CloudLinux for 30 days at no cost, and watch how stable your servers will become!