This post is part of a series comparing InterWorx to other server and hosting management applications. Today,  we're going to take a look how InterWorx, cPanel, Parallels Plesk, and DirectAdmin measure up with regard to managing IPv6 addresses. If you'd like to see a detailed comparison of InterWorx 5 with other server management products, take a look at our comprehensive comparison matrix.
We've written several times both on this blog and elsewhere about the importance of being prepared for IPv6 adoption. IPv4 simply doesn't have the space to accommodate the number of devices that will be connected to the web over the next few years—particularly if the Internet of Things takes off in earnest.
It's not all about address exhaustion though. IPv6 is simply a better protocol than its older sibling, which was designed for a different time. Some of the benefits of IPv6 include improved routing, more efficient packet processing, simplified network configuration, and strengthened security.
So, IPv6 is awesome, but it brings with it the opposite problem to IPv4. Instead of too few addresses, IPv6 allocations include so many—think billions—that they're hard to keep track of and manage properly.
We want you to be prepared for IPv6, which is why we've developed a number of features for InterWorx that make it easy to use and manage IPv6 addresses.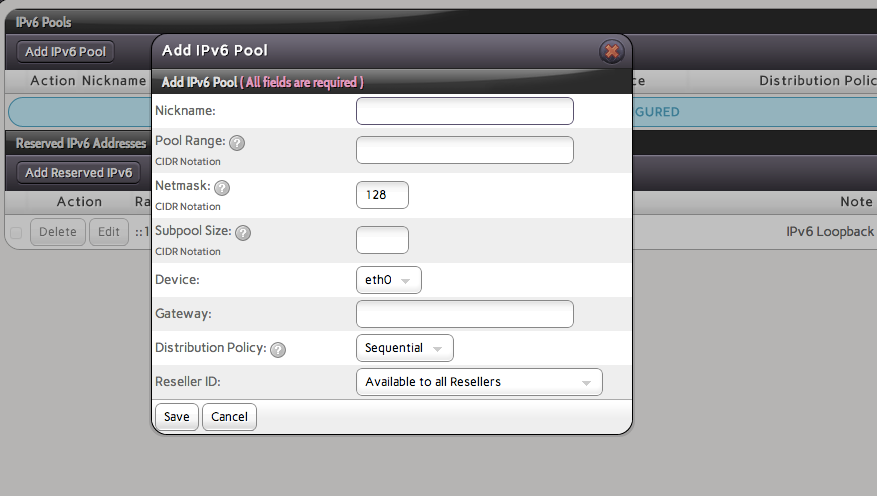 To help users manage and allocate their IPv6 addresses, we developed IPv6 pools and subpools. InterWorx IPv6 pools allow users to manage the assignment of individual addresses to domains. IPv6 Subpools are a handy feature we developed after real-world testing to make it easier for hosting companies and resellers to distribute limited subsets of their allocation to SiteWorx accounts, avoiding overlaps in distribution and making addresses easier to manage.
InterWorx also includes the ability to allocate multiple IPv6 numbers to domains, and advanced IPv6 diagnostic tools for troubleshooting.
Now lets see how other server and hosting management applications stack up against InterWorx.
cPanel vs InterWorx: cPanel does not include IPv6 pools functionality, so obviously it doesn't include IPv6 subpools. It also lacks IPv6 diagnostic tools and it's not possible to assign multiple addresses to a domain. In fact, cPanel offers very little functionality to facilitate IPv6 address management.
Parallels Plesk vs InterWorx: No advanced IPv6 management with IPv6 pools and subpools, no IPv6 diagnostics. Plesk is marginally better than cPanel in that you can assign multiple addresses to domains.
DirectAdmin vs. InterWorx: Much the same as cPanel. No IPv6 pools or subpools. No IPv6 diagnostics. And no ability to assign multiple addresses to domains.
So there you have it. If you care about IPv6 adoption, InterWorx offers by far the best range of functionality in an interface that's straightforward and easy to use.
To see more details about InterWorx IPv6 Pools and Subpools, take a look at our feature spotlight.
This post is part of a series in which we look at how InterWorx compares to other leading server management applications. There are more to come, so subscribe to the feed or follow us on Twitter or Facebook to hear the latest.