We're very excited to announce a new addition to the InterWorx Community: InterWorx Ideas!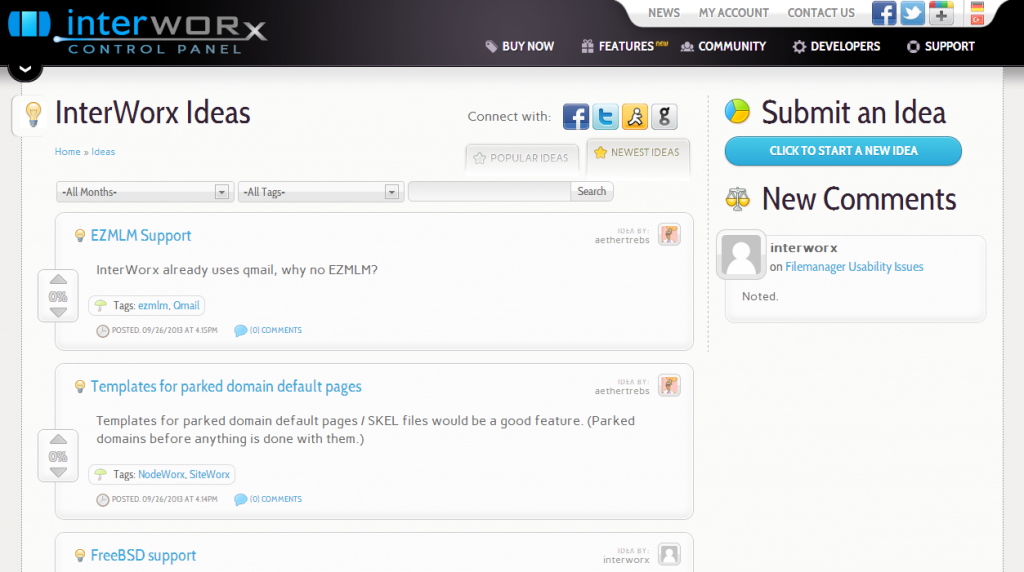 In a nutshell, it's a new way to submit feature requests that allows for extensive feedback and popularity filtering. The basic functionality should be familiar to anyone who's used Reddit or other similar systems.
How It Works
On the landing page, you're presented with a list of the newest feature requests. The way it works is pretty simple: If you like something, click the up arrow, and the idea will rise in the all-time rankings. Conversely, if you click the down arrow, it'll decrease in ranking. You can see the ideas with the highest overall point tallies by clicking the "Popular Ideas" tab.
You can up/down vote as a guest, but in order to comment or submit a new idea, you'll need to log in at the top right corner of the page. After that, new ideas can be submitted in the sidebar form and comments can be added on individual ideas themselves. All new ideas and comments are moderated, so if yours doesn't show up right away, don't worry 🙂
Why?
We decided to implement this system as a way to better prioritize features that are important to our users. While the old feature request section on the forums allowed for input, it wasn't always easy to tell which ideas would be really beneficial to a lot of people and which ideas were more for edge cases. The goal of the Ideas page is to make that obvious also make it easier for users to add and expand on new ideas.
To start it out, we added some of the most recent and major feature requests from the forum, and we're especially eager to hear about the new ideas out there. 🙂