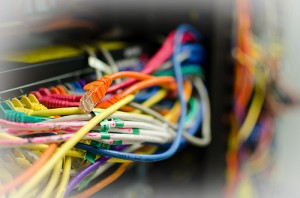 Throughout the year we like to round up the best content from around the web for your reading convenience. The big news from last month was the annual celebration of SysAdmin Day 2014, which occurs on the last Friday of each July. If you forgot to get your favorite SysAdmin a present, it's not too late for a belated thank you to the men and women who keep your computer systems running. Now that you've been reminded, let's get to the best articles from July and August. Enjoy, and let us know if we missed anything notable in the comment section. If you'd like to keep up with the same great content on a daily basis, feel free to follow us on Facebook, Twitter, or Google+.
System Administration
Sysadmin Day 2014: Quick, There's Still Time to Get the Beers In –  It is 25 July, and that means it's Systems Administrators Appreciation Day once more. Sysadmin Day is that one special day a year where syadmins the world over say to each other "Wow, I can't believe we all made it another year", and everyone else forgets that this has been a thing for 14 years.
To Linux Foundation SysAdmin Ryan Day, Elegance is the Best Tool – System administrators keep our lives and work seamlessly humming. They are the super heroes who often go unnoticed and unrecognized only until things go wrong.
A Day in the Life of a Sophos SysAdmin – Today is SysAdmin Day. We have to have a special celebration day for sysadmins because they often don't get the recognition they deserve. They're the ones plugging away in the server room or patching our systems, just so everyone else can carry on working without thinking about how things work.
21 Free Tools that Every SysAdmin Should Know – At Varonis we're always looking for productivity hacks—whether it be keyboard shortcuts or meditation techniques.  Last week, a bunch of us got together and shared our favorite free sysadmin tools—ones we love and use all time.
"Time Since Install" is the new "Uptime" – Welcome to the converged future where everything is peachy. We use configuration management to make our servers work exactly as we want, our infrastructures have change management procedures, test-driven design, and so on. Awesome!
Enterprise IT
CIO Guide – Leading Change in Enterprise IT with DevOps – Contrary to what a recent Wall Street Journal post suggests, I believe the CIO is needed more than ever. Increasingly, IT is at the heart of every business and with that the CIO becomes a key player – again.
The Dark Age Of Enterprise Software Is Ending – Enterprise software has been a critical tool to help companies organize data and automate painfully manual processes. And unfortunately little else.
Enterprise Collaboration Will Drive Digital Transformation – Digital transformation is on the menu for most companies this year, but the ingredients needed are still being determined. However, new research highlights the recipes companies are using to evolve internal processes, structure and culture to match the evolution in customers' behavior.
Mind the (Skills) Gap – Over the past year numerous international and UK-focused studies have underscored what most enterprises have, sometimes painfully, come to realise: Increased adoption of cloud computing and big data services and technology is driving transformation in businesses.
Enterprise Mobile Apps Pay The Most Yet Attract Few Developers – A recent survey by Vision Mobile  found that just 16% of worldwide developers are building mobile apps for enterprises, despite this market being the most lucrative of all to serve.
Hosting
The Internet Has Grown Too Big for Its Aging Infrastructure – Yesterday, the 20,000 customers who use a Lansing Michigan web hosting company called Liquid Web had some big internet problems. The reason: the internet grew too big for the memory chips in the company's Cisco routers.
A Fascinating Look Inside Those 1.1 Million Open-Internet Comments – When the Federal Communications Commission asked for public comments about the issue of keeping the Internet free and open, the response was huge. So huge, in fact, that the FCC's platform for receiving comments twice got knocked offline because of high traffic, and the deadline was extended because of technical problems.
Bezos's Law Signals it's Time to Ditch the Data Center – According to "Bezos's law," a unit of computing power price is reduced by 50 percent approximately every three years. AppZero's Greg O'Connor looks at why the economic gap that favors cloud providers will only widen over time.
Security
Why the Security of USB Is Fundamentally Broken – Computer users pass around USB sticks like silicon business cards. Although we know they often carry malware infections, we depend on antivirus scans and the occasional reformatting to keep our thumbdrives from becoming the carrier for the next digital epidemic.
MailPoet Vulnerability Exploited in the Wild – Breaking Thousands of WordPress Sites – A few weeks ago we found and disclosed a serious vulnerability on the MailPoet WordPress Plugin. We urged everyone to upgrade their sites immediately due to the severity of the issue. The vulnerability allowed an attacker to inject anything they wanted on the site, which could be used for malware injections, defacement, spam and many more nefarious acts.
Cybersecurity Startup Gold Rush for Venture Capitalists – According to PrivCo, a financial data provider on privately-held companies, venture capital firms are poised to push $788 million into early stage cybersecurity startups this year.
Russian Hackers Amass Over a Billion Internet Passwords – A Russian crime ring has amassed the largest known collection of stolen Internet credentials, including 1.2 billion user name and password combinations and more than 500 million email addresses, security researchers say.
This month, we'll leave you with a look inside a 30-year-old Mac that's about to get an upgrade.
Photo Credit: Flickr User/BobMical