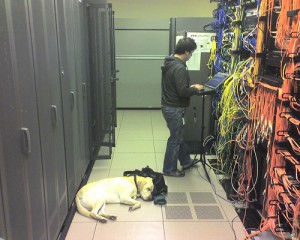 Since our last roundup, quite a bit has happened. North America has run out of IPv4 addresses, but the world did not descend into anarchy, so that's good. However, we can't say the same for the reaction to Chicago's new cloud tax. From all walks of life, people aren't happy about that decision.  And don't forget to thank your SysAdmin later this month on SysAdmin Day. So let's get to it. Here are the best SysAdmin, Web Hosting & Cloud, Enterprise IT, and Security articles from June and the beginning of July. For the same great content, follow us on Facebook, Twitter, or Google+ the rest of the year. Enjoy, and let us know if we missed anything notable in the comment section.
System Administration
Sysadmin Brain Food: 10 Useful Tools for Becoming a Smart Sysadmin – The life of a sysadmin can sometimes feel like Groundhog Day. Monitoring the same aspects of your IT environment on a daily basis is a valuable but also repetitive process. Although non-IT departments tend to spice things up by offering access to unique and exciting training events, it is less of an occurrence for IT professionals.
13 Things System Administrators Hate About IT Vendors – Working with IT vendors is a fact of life for every IT professional, ranging from hardware vendors like Dell, IBM, and Fujitsu, to software and cloud providers like Microsoft, Google, and more. They often provide invaluable products and services that make IT run more smoothly and effectively.
Show a SysAdmin How Much You Care on SysAdmin Day – Without SysAdmins, our networks would go down, lost files wouldn't be found, systems would never update and the new intern would have the wrong permission levels.
Enterprise IT
Firms Need a Blueprint for Building Their IT Systems – Winchester House in San Jose, California, was once the residence of Sarah Winchester, the widow of gun magnate William Winchester. This mansion is renowned for its size, its architectural curiosities, and its lack of any master building plan.
Why the CIO Should Loosen the Grip on Enterprise IT – Blue chips are facing major disruption to their business models, the likes of which has not been seen since Amazon rewrote retail. Web startups are using IT to add customer value, threatening established business models.
Enterprising Open Source – If you attend OSCON this year, you may notice a bit more attention paid to the enterprise side of tech. That is on purpose, as we have been noticing the open source and enterprise worlds edging closer and closer.
Hosting & Cloud
Three Years Since World IPv6 Launch: Strong IPv6 Growth Continues – It is now three years since World IPv6 Launch, and solid growth in global IPv6 adoption continues at a steady pace. With over 17% of the country's end-users actively using IPv6, the United States continues to be a dominant force in IPv6 traffic levels and adoption, with the top three U.S. broadband operators and all four of the top U.S. mobile operators actively rolling out IPv6 to their end-users.
The DOD's New Cloud Security Requirements: What Hosts Should Know –  Towards the middle of January, the Defense Information Systems Agency – a subdivision of the United States Department of Defense – released a new cloud computing security requirements guide, which we first heard talk of back in November.
What Chicago's New 'Cloud Tax' May Mean for Service Providers – Chicago recently instituted a "cloud tax" in order to capture some of the missed revenue from the shift away from brick-and-mortar stores and toward a digital, subscription-based economy. The recent ruling from Chicago's Department of Finance modifies existing tax laws around amusement, translating the tax to the digital world.
Security
Securing Access to Wikimedia Sites with HTTPS –  To be truly free, access to knowledge must be secure and uncensored. At the Wikimedia Foundation, we believe that you should be able to use Wikipedia and the Wikimedia sites without sacrificing privacy or safety.
The Hunt for the Financial Industry's Most-Wanted Hacker – In any global outbreak, it's important to identify Patient Zero. In the movies, you get a leggy Gwyneth Paltrow. In the nine-year online epidemic that helped create cybercrime as we know it, you get "fliime."
10 Tips to Improve Your Website Security – In recent years there has been a proliferation of great tools and services in the web development space. Content management systems (CMS) like WordPress, Joomla!, Drupal and so many other allow business owners to quickly and efficiently build their online presences.
Tracking down the Villains: Outlier Detection at Netflix – It's 2 a.m. and half of our reliability team is online searching for the root cause of why Netflix streaming isn't working. None of our systems are obviously broken, but something is amiss and we're not seeing it. After an hour of searching we realize there is one rogue server in our farm causing the problem.
Why the Great Glitch of July 8th Should Scare You – Over at Fusion, Felix Salmon tells folk to chill out over The Great Technical Glitch of July 8, 2015 when a computer glitch grounded all mainland United flights, the NYSE went down for the day, and the website of the Wall Street Journal was down, too.
President Obama: The Fast Company Interview – In an exclusive and wide-ranging conversation, the President explains his take on Washington's technology problems—and his solutions.
To end this month's roundup, we'll leave you with a video that promises to show you "How to Learn to Code."
Image Credit: bandarji