Today,  we're going to take a look how InterWorx helps hosts support valuable clients and keep an eye on rogue users. We'll be comparing the experience offered by InterWorx to that of cPanel, Parallels Plesk, and DirectAdmin.
If you'd like to see a detailed comparison of InterWorx 5 with other server management products, take a look at our comprehensive comparison matrix.
The vast majority of hosting clients are well-behaved. Some, whether intentionally or accidentally, can pose a problem for hosting providers and resellers. A hosting account offers resources that can be used maliciously in the wrong hands, so it's important that a server management application gives system administrators an insight into what their clients are doing that may cause problems.
In this article we're going to have a look at three ways that InterWorx helps administrators to keep hosting accounts under control. As usual, we're comparing InterWorx to other server management applications, including cPanel, Parallels Plesk, and DirectAdmin.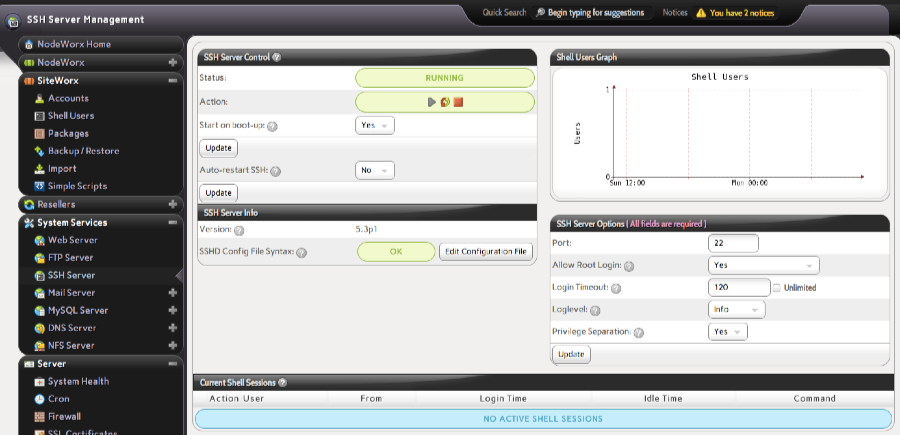 Browse user command history
It's all too easy for a novice hosting client to make a mistake on the command line that has a negative impact on their hosting. It doesn't have to be quite so bad as "rm -rf /*"; sometimes quite subtle typos and erroneous commands can put users in a pickle. It's the job of hosts to fix things, but without any idea of what the user has been up to, offering responsive support is not easy.
InterWorx helps server administrators to offer speedy support by allowing them to browse the SSH command history of users.
cPanel, Parallels Plesk, and DirectAdmin do not offer this facility.
View and terminate current shell sessions
In an emergent situation, it's important that hosting providers are able to see what's happening right now. InterWorx allows administrators to view current shell sessions and terminate them if required.
cPanel, Parallels Plesk, and DirectAdmin do not allow administrators to view and terminate shell sessions.
View and terminate running database queries
It's not only misguided shell commands that can cause problems. I've lost count of the number of times I've experienced hosting clients who accidentally hose their content management system with unwise database queries—and, of course, there are security considerations that make the ability to view and terminate running MySQL queries desirable.
InterWorx can do it; cPanel, Parallels Plesk, and DirectAdmin cannot.
These are just a few of the ways we help you keep your client's hosting accounts running smoothly.
This post is part of a series in which we look at how InterWorx compares to other leading server management applications. There are more to come, so subscribe to the feed or follow us on Twitter or Facebook to hear the latest.