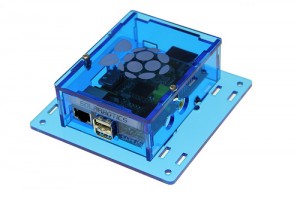 Despite its brevity, February was a very busy 28 days. At the end of the month, the Raspberry Pi even celebrated a second birthday, although as a Leap Year baby, it doesn't officially turn two until February 29th, 2016. Knowing you might have missed some of the goings-on, we've gathered up the content that we think is most relevant to the past month. If you'd like to keep up with the same great content on a daily basis, feel free to follow us on Facebook, Twitter, or Google+. Here are the best articles from February. Enjoy, and let us know if we missed anything notable in the comment section.
System Administration
Unix: Making Better Use of the Find Command – Just because a Unix command is one those most of us learn within the first few hours of our exposure to a Unix/Linux OS doesn't mean we have grasped the many ways in which it can be used to make our systems administration work easier.
The Dragon in the Datacenter – Systems Administrators have a reputation, a bad one, when it comes to personal skills. I saw it at WWU when problems went unreported because users were afraid we'd yell at them for being stupid.
On Being a Damn Good Sysadmin – My boss Josh O'brien said something to Wes and me in IRC while we were watching the live stream of Network Field Day 7. To paraphrase, since the text isn't in my history anymore: "I think it's awesome you systems geeks get excited about networking stuff."
Demand for Linux Skills Rises – Demand for people with Linux skills is increasing, a trend that appears to follow a shift in server sales. Cloud infrastructure, including Amazon Web Service, is largely Linux based, and cloud services' overall growth is increasing Linux server deployments.
May Open Source be With You – My introduction to open source software began when I was sitting on a server room floor, with my head in my hands, completely frustrated with a Windows 2000 server. Every night there were some services that would crash.
The Lamp Stack Switches on Large-Scale Web Development – For much of computing history, application delivery came by way of proprietary, vertically integrated application stacks that were designed and engineered by IT vendors. In the late 1990s that changed.
Enterprise IT
No Private Cloud Plans? Well, You'll End Up in the Public Cloud… – Enterprise IT undergoes an evolutionary phase every 20 years or so. IT research firm IDC labels these evolutionary phases as platforms. IDC identifies the first platform as the mainframe, the second as client/server and the third as the cloud.
Why Microsoft Should Just Pack it in and Buy Red Hat – Over the past 40 years Microsoft has built its mega-billion-dollar business around the Windows operating system and Windows applications.
Big Data Isn't Just For The Enterprise These Days – Around this time of year, the concentration of hoopla around Big Data, data warehousing and business intelligence is so thick you could probably make a chart about it.
Many CIOs Are Unprepared For The Next Era In Enterprise IT – The next era of enterprise IT is upon us, but many CIOs are not prepared to manage the demands that come in this new era. We refer to this next era as the digitalization of IT, and it's the beginning of the digital industrial economy.
What's Coming Next in Enterprise IT? – Flexibility, accessibility and mobility. The "walled fortress" era of enterprise computing is fading fast and being superseded by a multitude of new and dynamic work-modes and devices.
Can UX Save Enterprise IT? – The new generation of iPad-enabled knowledge workers has little patience for the archaic user experiences (UX) offered by entrenched enterprise IT providers, whether on their PCs at work or on their smartphones on the road (or at their kid's soccer game).
Hosting
Helpful Tips & Tricks for Choosing a Web Host – Here at WP Site Care we avoid the one size fits all approach to recommending a web host. So if you're looking for a quick answer to the question: who is the best web host, then I'm afraid you're gonna be disappointed.
Why Open Source Will Rule the Datacenter – Rare is the infrastructure that lacks open source software, but as we watch such new technologies as SDN move into our data centers, open source seems increasingly likely to penetrate every corner — not just servers and applications, but networking, storage, and more.
Cloud Computing's Impact on Programming Models: Hosting in the Cloud – In a series of six blog posts, I will focus on how a migration from traditional development environments to ones that leverage the cloud impacts developers, their applications and the programming models they use.
Security
Data Protection In The Cloud: The Basics – What is data protection in the cloud? This isn't an easy question to answer, since it comes in various forms and the tools and technologies for data protection are extremely numerous and can be used in different combinations.
The Rise of UDP-Based DDoS Attacks – The DDoS war is ramping up with the use of network time protocol (NTP) amplification to paralyse, not just individual organisation's networks, but potentially large proportions of general internet traffic.
7 Enterprise Mobile Security Best Practices – Information security experts are fond of the certain language they use to explore and explain the security threats that companies and organizations routinely face.
Taking Control of Linux Exploit Mitigations – Hey, it's Will. In my last two blog entries, I looked at aspects of two exploit mitigations (NX and ASLR) on the Linux platform. With both cases, Linux left a bit to be desired. In this post, I will explain how to add further exploit protections to Linux.
In honor of the Raspberry Pi's two year anniversary in February, we leave you with this video celebrating the innovative device's history .
Photo Credit: Solarbotics