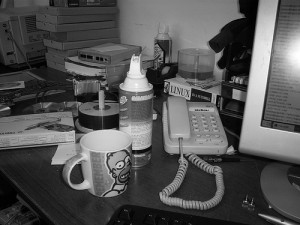 If you didn't thank your SysAdmin on SysAdmin Day, it's not too late to send out a belated gift of cookies or brownies. Think about it. With that being said, our SysAdmin section this month is an ode to all the great work being done. You wouldn't be able to watch all your cat videos without these guys and gals. So with that intro out of the way, let's get to it. Here are the best SysAdmin, Web Hosting & Cloud, Enterprise IT, and Security articles from July and the beginning of August. For the same great content, follow us on Facebook, Twitter, or Google+ the rest of the year. Enjoy, and let us know if we missed anything notable in the comment section.
System Administration
Windows 10: A SysAdmin Speaks His Brains – It's Windows 10 day. That means it's time for a completely biased and in-no-way-even-remotely-objective assessment of Windows 10.
Why Everyone Should Celebrate SysAdmin Day! – From Wi-Fi, to email, to adorable cat videos, they wouldn't be possible without a crazy smart system administrator in IT keeping everything up and running. And because not having internet access these days is like being an outcast on a deserted island, everyone should keep IT guys and gals happy.
What You Sound Like to a Sysadmin – We all know that what we say is only a part of what we actually communicate. Like a good doctor, a trained Sysadmin starts an assessment and diagnosis of your problem before you even reach their desk (and then, in some cases, come round the desk, lean over, read everything on the monitor and then touch it for no reason – you know who you are).
Enterprise IT
Why Enterprises Are Embracing Rogue IT – IT departments used to fear employees walking through the door armed with smartphones, tablets and personal cloud storage accounts. But much of that initial fear has subsided, as companies realize embracing rogue IT can lead to better collaboration with IT and more productivity from business teams.
Is it time to re-Think Enterprise IT Security? – Top-level IT security pros believe there's a significant, unaddressed gap between enterprise security priorities and the serious threats that keep them awake at night. According to the Black Hat USA 2015 attendee survey, 73% of enterprise security professionals believe their organization will suffer a major data breach over the next 12 months.
Data Centers: Accommodating Enterprise IT Needs and Growth – The data center is infrastructure and doesn't generate revenue or create differentiated business value. So an enterprise CFO frequently thinks that rather than utilize precious capital to build or expand a data center, the organization should explore other options, such as leasing space in a public data center.
Hosting & Cloud
The Mess Chicago's 'Cloud Tax' Only Makes Messier – Chicago's finance department recently reinterpreted two city taxes in ways that are going to cost tech companies money, potentially a lot of money. An ensuing uproar has prompted city officials to begin redrafting the change to one of those taxes, what's known as the "cloud tax."
Cloud-Enabled Managed Hosting: 5 Things A Cloud Provider Should Offer – The IT industry moves at light speed fueled by constant change and advancement. No area of IT has been affected more by this change than the hosting and managed service space.
IBM Makes Push for Linux Customers with Ubuntu Mainframes – IBM is expanding support for Linux on mainframes with a few new initiatives announced today, including plans for an Ubuntu distribution. The announcement also includes a new Linux mainframe server called LinuxONE and mainframe code contributions to a new "Open Mainframe Project" formed by the Linux Foundation.
Going to the Cloud? Avoid these Mistakes – Cloud computing is a powerful, agile model that can positively impact pretty much any business out there. As long as it's deployed properly, that is. This means good planning, a solid infrastructure, and a use-case which directly fits what the cloud can deliver.
Security
One in Every 600 Websites has .git Exposed –  To be truly free, access to knowledge must be secure and uncensored. At the Wikimedia Foundation, we believe that you should be able to use Wikipedia and the Wikimedia sites without sacrificing privacy or safety.
2015: Time to Rethink Enterprise IT Security – In first-ever survey, sophisticated security professionals say enterprise security priorities don't address the most serious threats.
The Inside Story of the Biggest Hack in History – Three years ago, the world witnessed the worst hack ever seen. And for the first time, we're now learning new details about the monstrous cyberattack on Saudi Aramco, one of the world's largest oil companies.
The Five Online Security Measures You're Probably Doing Wrong – After surveying security experts and non-experts alike, three Google researchers identified some distinct discrepancies between the practices and recommendations of experts (defined as having studied or worked in computer security for at least five years) and non-experts, recruited from Amazon's Mechanical Turk platform.
Security basics with GPG, OpenSSH and OpenSSL – This post isn't meant to be "this is how you do security". I'm not a security expert. I'm not even a security intermediate! When I titled this post "security basics" I wasn't kidding. If you're working with applications and/or servers in production then please consult someone better equipped on the subject of security.
Who Should be Responsible for IT Security? – Typically, when a cybersecurity problem arises, it's the IT department that gets it in the neck. Ostensibly, that makes sense. After all, if someone is in your network mining your database for corporate secrets, it's hardly the office manager or the accounts receivable department's lookout, right?
To end this month's roundup, we'll leave you with a video that praises the SysAdmins who make your lives easier on a day-to-day basis.
Image Credit: tonymoyoy