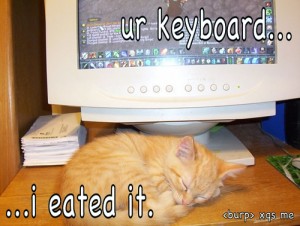 We'll give May this, it did a pretty nice job of sticking with the themes that we have chosen for our monthly roundups. Security issues on the Internet did not go away, system administrators continue to administrate, and web hosting and enterprise IT both remain in the crosshairs of the cloud. However, the major news of the month was the return of Keyboard Cat with an inspiring rendition of "96 Tears" after a near seven year hiatus (look for the video at the end of the post). Without further ado, here are the best articles from May. Enjoy, and let us know if we missed anything notable in the comment section. If you'd like to keep up with the same great content on a daily basis, feel free to follow us on Facebook, Twitter, or Google+.
System Administration
What's Your Sign? The Sys Admin's Zodiac – Sys admins, alchemists, astrologers… all three jobs seems to be part fantasy and part mythology to people who don't do the job. The subject came up around the table recently and we started to compare the traditional traits of the various Zodiac signs to those of the typical sys admin role and character.
Hard Drive Temperature – Does It Matter? – How much does operating temperature affect the failure rates of disk drives? Not much.
13 Signs you are a System Admin – 1) You're always putting out multiple fires at once.
Nginx Passes Apache as Web Server of Choice Among Top Sites – Biggest slice of the top 1,000 websites now uses Nginx over Apache's or Microsoft's Web servers, says W3Techs survey — but Apache is still tops overall.
Managing Software Within a Corporate Network – Managing software installed on endpoint systems is one of the most important and time-consuming tasks in corporate network management. As a rule, every new machine is mounted with a disk image containing the entire "standard set" of necessary software and drivers, which speeds up the deployment of the new workplace, making things much easier.
The Importance of Sysadmin Approachability – The importance of maintaining an open, honest, responsive relationship with your end-users is critical.  To successfully implement a solution of any kind, you need to be able to receive honest (and sometimes critical) feedback from your end-users.
Enterprise IT
Gartner Tells IT Executives How to Enable Enterprise Collaboration – The importance of maintaining an open, honest, responsive relationship with your end-users is critical.  To successfully implement a solution of any kind, you need to be able to receive honest (and sometimes critical) feedback from your end-users.
6 Takeaways From Enterprise IT Survey About The Cloud – Amazon, Google and Microsoft have all drastically cut prices of their public cloud offerings over the past year. The price wars, however, are not simply about vying for an existing base of customers, but also expanding the market to bring more enterprises overall into the cloud.
Climbing the Enterprise Cloud Market Ladder – It's no secret that most new industries consolidate as they mature, and the enterprise cloud market is no exception. In the last few years, mergers and acquisitions have made headlines as cloud vendors battle it out for a top spot in the relatively new and rapidly growing enterprise cloud market.
Platform as a Service is Still a Work in Progress for Enterprise Apps – In 2010, the platform-as-a-service space looked poised to take over the world. There were so many startups, not to mention high-profile offerings by Google and Microsoft, that it was hard to deny the momentum.
The Enterprise Is Going Mobile: 3 Dilemmas Businesses Have to Solve – The mobile revolution is incomparable to any other technological wave in terms of speed and magnitude. Based on the data prepared by social media agency WeAreSocialSG, there are more than 6.5 billion mobile subscribers worldwide as of the beginning of 2014.
Hosting
A Web Host Is Forcing the FCC's Internet to Run at Dial-Up Speeds – It's doubtful that many employees of the Federal Communications Commission spend their days browsing Geocities-era websites, but if they do, they're going to have to do it the same way they did in the mid 1990s—very slowly.
Better Data Centers Through Machine Learning  – It's no secret that we're obsessed with saving energy. For over a decade we've been designing and building data centers that use half the energy of a typical data center, and we're always looking for ways to reduce our energy use even further.
9 Key Factors to Measure Reliability of a Web Hosting Company – One of the most crucial decisions you will make for your website is selecting a web hosting provider. It is essential to choose the right host to deploy your website online with all your hard work, but sometimes your hard work could be wasted or even worse, lost.
Security
How To Make Your Social Media Accounts (Almost) Unhackable – It can be easy to dismiss social media security as a chore to save for another day. Getting hacked is serious business though, and you could find your online identity stolen, your precious photos erased and your devices inaccessible.
Are You Prepared Against A Hack? – "Danger: malware ahead!" and "This website may harm your computer" are the two sentences that I hate most and that I don't want any of my clients to see when they open their website.
Why Tech's Best Minds Are Very Worried About the Internet of Things – The Internet of Things is coming. And the tech cognoscenti aren't sure that's a good thing. For years, the prospect of an online world that extends beyond computers, phones, and tablets and into wearables, thermostats, and other devices has generated plenty of excitement and activity.
RACK 911 Labs Year in Review – The security of the hosting industry has always been a concern of RACK911 and in May of 2013 we decided to take a more proactive role by creating a new brand called RACK911 Labs that specializes in finding security vulnerabilities before the bad guys do.
We talked about it above, and here it is! Keyboard Cat performing 96 Tears.
Photo Credit: anomalous4