InterWorx specializes in two things:
Providing a reliable foundation for your hosting needs.
Simple scalability through our built-in clustering feature.
But how does our clustering work, and when is it a good idea to ramp up from one server to a cluster? I'm glad you asked 🙂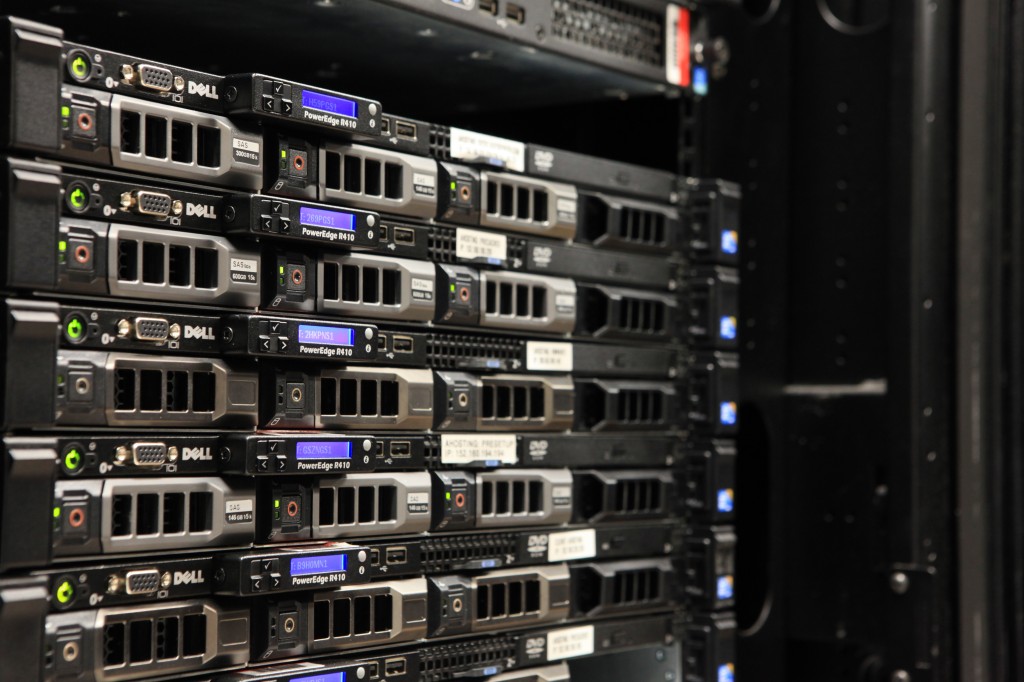 When to Cluster?
Setting up an InterWorx cluster is a great example of horizontal scalability — increasing capacity by adding systems. If you're running a high traffic/high demand website or application, chances are you're going to reach a point where even a dedicated server won't be able to handle your load. At that point, you have two options: a) redesign your software to coordinate between multiple systems, or b) cluster servers together to act as one. InterWorx makes Option B as easy as a few clicks 🙂
The Basics of InterWorx Clustering
In a nutshell, our clustering feature allows you to easily bring multiple servers together to act as one. It is based on a simple Manager/Node setup where one system is designated as the Cluster Manager (CM) and the rest of the systems in the cluster are interchangeable nodes. The CM handles the database(s), the file server, and load-balancing requests between the nodes in the cluster, and the nodes are used for processing requests. By default, every node handles all types of requests, but if you want to designate certain nodes for specific types of requests, you can set that up by creating load balancing rules.
Along with simplicity, this setup also adds reliability because nodes can drop in and out without disturbing the operation of the cluster. Below is a diagram of a basic cluster setup, but it only one example — there are many other examples in our clustering documentation:
How to Cluster in InterWorx
There are a couple things you'll need before you create an InterWorx cluster. First, unsurprisingly, you'll need InterWorx installed on all of the systems you plan to cluster, meaning each system needs its own license. Second, you'll need to make sure you have two IP addresses available to the CM — one for communication between the nodes in the cluster, and one to communicate to the outside world. You can add IP addresses in NodeWorx by going to "System Services" >> "IP Management" >> "System IP's".
To setup an InterWorx cluster, log into NodeWorx on the system you want to be the CM, go to the "Clustering" menu, and click "Setup". From there, click on the "Setup" button in the "InterWorx Cluster Manager" window. The rest of the setup is just a matter of designating the IP address for internal cluster communication (Quorum IP) and a couple other minor things — take a look at the full setup instructions for all the details.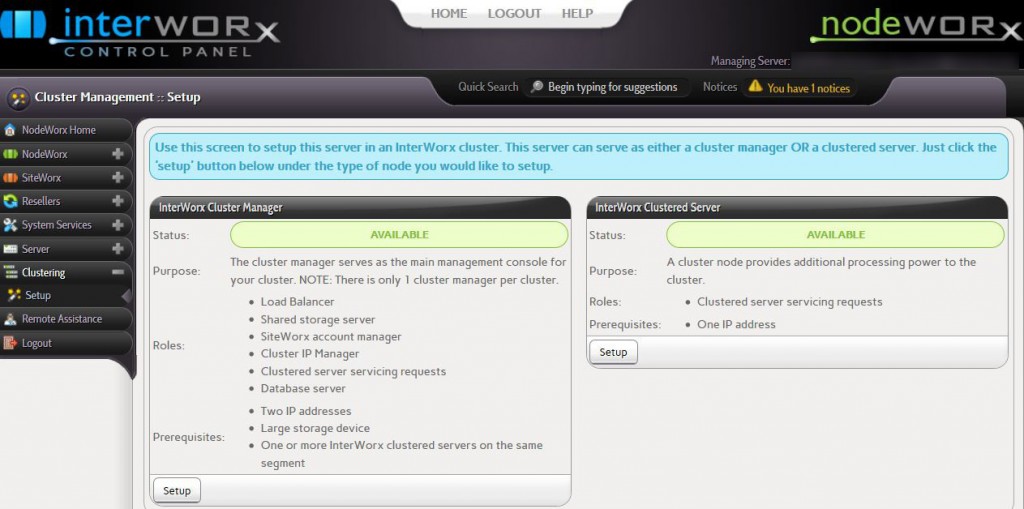 After the CM is setup, then you just need to add your nodes to the cluster. Log into NodeWorx on each node, go to the "Clustering" menu, and click "Setup". From there, click on the "Setup" button in the "InterWorx Clustered Server" window and follow the simple setup instructions. That's it!
Wrap Up
By including a simple clustering feature with every install, InterWorx gives you the ability to scale your website/application/business with ease. Running your own InterWorx cluster already? Let us know how you're using it below in the comments, and let us know how many servers are in it by voting in the sidebar poll!