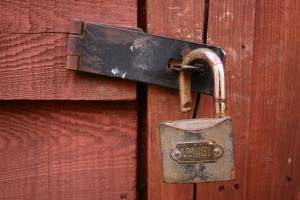 Today we welcome Sarah to the blog! Sarah Green is interested in all things tech and is particularly focused on exploring the world of web hosting, cloud computing and related trends. She can be reached on Twitter at @sarahh_green.
Running a website in a secure environment can in many ways determine the pace of its development. Although ecommerce websites are the most frequent targets of malevolent attacks, database breach can happen to anyone. This is especially true today, when techniques used by black-hat hackers become increasingly sophisticated and aggressive, thus bringing millions of websites out there into risk.
Namely, recent studies suggest that both the strength and the frequency of cyber attacks keep rising, which also increases the costs of managing cyber risk and damage. PwC survey shows that the estimated global loss from cybersecurity incidents in 2014 grew by 34% in comparison to 2013, which is already a cause for concern.
Having these digits in mind, it is easy to see why webmasters should always be mindful of the ways they approach the highly sensitive issue of web hosting security. Given the fact that even a single reckless step can expose sensitive databases to hackers, every website admin should understand the best practices of protection.
Specificities of different hosting environments
A great start to securing a web hosting environment is, of course, to become acquainted with the risks associated to different types of hosting solutions. When it comes to choosing cloud, dedicated or shared hosting, one must examine vulnerabilities each of these is prone to in order to employ the right security practices. While dedicated servers are typically most secure, shared hosting may require additional protection steps due to the fact that once a single website becomes a target, all the other website on the same server may be brought down too. Therefore, choosing a hosting environment would greatly influence the further steps you should take.
Choosing the right web hosting provider
Regardless of the type of hosting you choose, you need to ensure your provider complies with all the security standards and regulations. Certainly, the choice of a provider will depend on multiple factors, yet the security measures they use are an important thing to check before making a long-term commitment. This is especially important for shared hosting environment, where your website may get stuck on a server that already hosts suspicious IP addresses and doesn't have a favorable reputation. This is why you need to make sure you always opt for a reliable web hosting solution, which you would recognize by examining their reputation on third party websites, looking closely at their policies, as well as understanding their possible limitations.
Control panel settings
Even though parts of the responsibility over the website's stability lie in the hands of a hosting provider, website admins also need to take certain steps to prevent any possible vulnerability exploitations. This mostly goes for securing your control panel for maximum safety, which includes the following:
Account authorizations. It is of crucial importance to introduce accessibility conventions, which may include limiting privileges for specific accounts. Only admin users should have the full access to database, which can be set using the control panel.
Using strong passwords. Strong passwords should again be a matter of convention in organizations where multiple people have the access to web hosting management system. They should contain at least 8 characters, special symbols and numbers to be made difficult to break.
Firewall settings. Firewall and appropriate anti-virus software should always be used to ensure maximum security of file transfer. Among the most commonly used software solutions for this purpose are ClamAV, APF and ConfigServer Security and Firewall, which typically come integrated with different panels.
Conclusion
As pointed out above, your website's security is a responsibility of both you and your web hosting provider. Each of the two parties, therefore, should make extra efforts to create environment that can handle even the most aggressive attacks. This is, of course, particularly important for business websites that cannot afford even the slightest service discontinuity.