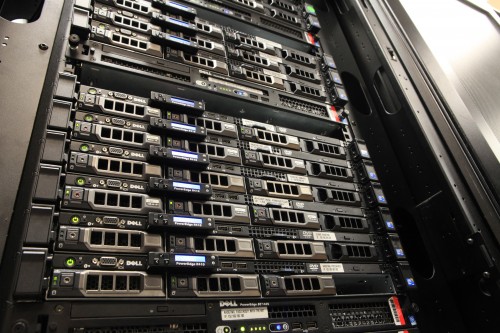 Web hosting is a crowded industry, and the #1 goal of every host is to show how they are better than the competition. At least nine times out of ten, hosts do this by touting their price, reliability, and support. However, if every host is generally using the same differentiation strategy, is it really a differentiation strategy?
Also, in light of the recent news about GoDaddy adopting cPanel as their default control panel, it's time for hosts to seriously rethink how they differentiate from the pack. Low-end shared hosting has basically become a commodity at this point, and the name of the game in a commodity market is price reduction. Both GoDaddy and cPanel have historically proven to be exceptionally good at cramming as many low-end accounts on servers as possible, so teaming up will allow them to really corner that market.
To win in today's hosting world, hosts need new ways to compete. Thankfully, InterWorx offers you several easy ways to set your company apart. 🙂
1.  Look Different
Things like usability and clear organization matter to customers, and the happier your customers are with the look and feel of their control panel, the happier they are with you. InterWorx focuses on making the basics easily accessible for both hosting customers and system administrators by providing clear hosting services sections in both NodeWorx and SiteWorx – we don't believe in cluttering our interface with superfluous 3rd party wizards and confusing menu structures. 🙂
On top of that, InterWorx is 100% brandable, allowing you to customize the interface to match your company's look and feel. After all, the control panel you choose is the face of your company in the eyes of your customers, and if that face looks exactly like the one offered by low-end providers, you're not doing yourself any favors.
2.  Customize to Own Your Niche
We don't think there's only one way to do anything, so our philosophy is to "get out of the way" when you need to install a custom application or service. That, combined with our full scripting capabilities, complete API, and command line interface, allows you to build out a hosting solution customized and optimized to dominate the market you're going after.
Look no further than our biggest customer, Nexcess, for an example. Using InterWorx, Nexcess built out an optimized hosting environment for their Magento and Expression Engine clients, allowing them to achieve significant growth and be recently named one of Deloitte's Fast 500.
For more details on what Nexcess built using InterWorx, take a look at their Optimizing Magento whitepaper.
3.  Scale to Keep your Big Customers Happy
What do you do when your customers get big and need more horsepower than your VPS or dedicated solutions can offer? Those are the kind of high-margin customers that every web host wants, and nothing is worse than losing a customer because they outgrow your capacity to host them.
With InterWorx's out-of-the box clustering solution, that's a non-issue. When your customers grow beyond a single server, simply turn it into a cluster and add systems as needed. No need to go through the clunky process of planning out exactly how many web servers, DB servers, etc, either – InterWorx clustering is based on a simple Master/Node system that handles that all for you.
Wrap-up
While reliability and support are still vital, in today's web hosting world, differentiating yourself from the competition requires much more. InterWorx gives you the tools you need to set yourself apart both technically and aesthetically, and it also lets you scale out so you can hold onto your customers as they grow.
Want to chat more about how to implement InterWorx at your company? Use this link to schedule a time to skype 🙂