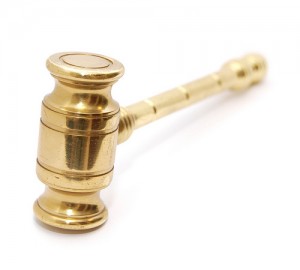 In what is likely to be the first of many cases, IBM has prevailed in a complaint against the registrant of two new generic top-level domains that used its brand. The domains "ibm.ventures" and "ibm.guru" were registered by someone with no connection to IBM, who redirected both domains to "ibm.com".
Over the next year we're going to see hundred of new generic top-level domains coming online, with .ventures and .guru being among the first English language domains to complete the ICANN delegation process. While this is good news for web hosting companies and others that make money selling domains and for companies who can now take advantage of a diverse domain landscape, it's also going to pose something of a headache for companies looking to prevent infringement of their trademark.
The Uniform Rapid Suspension System was put in place to deal with exactly this problem. In this case, the time between the complaint being made and the resolution that suspended the domains was just seven days. Currently the suspended domains lead to a placeholder site.
The Uniform Rapid Suspension decision was made by the National Arbitration Forum, a body that handles various types of dispute resolution.
It is estimated that the registrant spent $2,500 on the names. Redirecting them to IBM's homepage seems an odd decision in that it undermines any potential argument the registrant could have made in defense of his use of the domains. It's difficult to claim you have a legitimate use for the domain unrelated to IBM's trademark when you make those domains point at IBM's site.
The speed of the decision will be welcome news to brands, although it should be noted that IBM could have registered the domains during the month-long sunrise period when trademark holders registered at the Trademark Clearinghouse get first dibs. After the sunrise period the domains are opened to public registration. The .guru and .ventures TLDs were made available for public registration on January 29.
Because the IBM trademark is registered with the Trademark Clearinghouse, the registrant, who used GoDaddy's registrar services, should have received a warning that they were registering a domain that likely infringed trademarks, but there's nothing to prevent individuals from ignoring that warning and pushing ahead with their registration.
However, there is a mechanism for preventing the registration of trademark-infringing domains at the registry level. The Donuts Inc. registry — which controls both of the gTLDs in this case — have introduced the Domain Protected Marks List, a service that brands have to pay for and which will block domain registrars like GoDaddy, Hover, and others from allowing domains to be registered.
Photo Credits: walknboston