How To: Set up an environment to build an InterWorx theme
For those of you who want a bit more control (classical web-developer style), this small how-to might provide useful.
This tutorial assumes:
You've got root (or super user) access to your server.
You've got an editor and SFTP client your comfortable using. (We're using Sublime Text 3 with SFTP)
To be safe, an InterWorx install that's not being used for production. (Hit us up for a demo license via The Demo Form if you don't have any spare licenses for a tester install.)
1.) Harness the iworx user
If you SSH in to your server and sneak a peek at the /usr/local/interworx folder (or the symlink /home/interworx), you'll notice the group and user for many of these files are owned by iworx.
The iworx user and group permissions on these files are essential for InterWorx to run properly. These permissions are also required for InterWorx to access your themes.
ls -la /usr/local/interworx
Fortunately for us,  the iworx user should be capable of SFTP by default.  We've just got to give iworx a new password.  (Its default password is generated on install, and resetting it won't hurt anything.)
passwd iworx
You will be prompted to enter a new password twice. Make it something secure.
2.) Setting up your local folders
The idea here is to give your FTP program a hint just incase it's giving you permissions errors trying to view the entire interworx folder.
If you connect and get a permissions error, that's fine as long as you can view the nodeworx and siteworx template folders:
On your local machine, you'll need to set up a folder structure like the one below: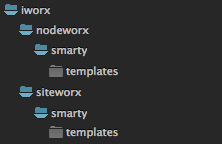 3.) Setting up your FTP client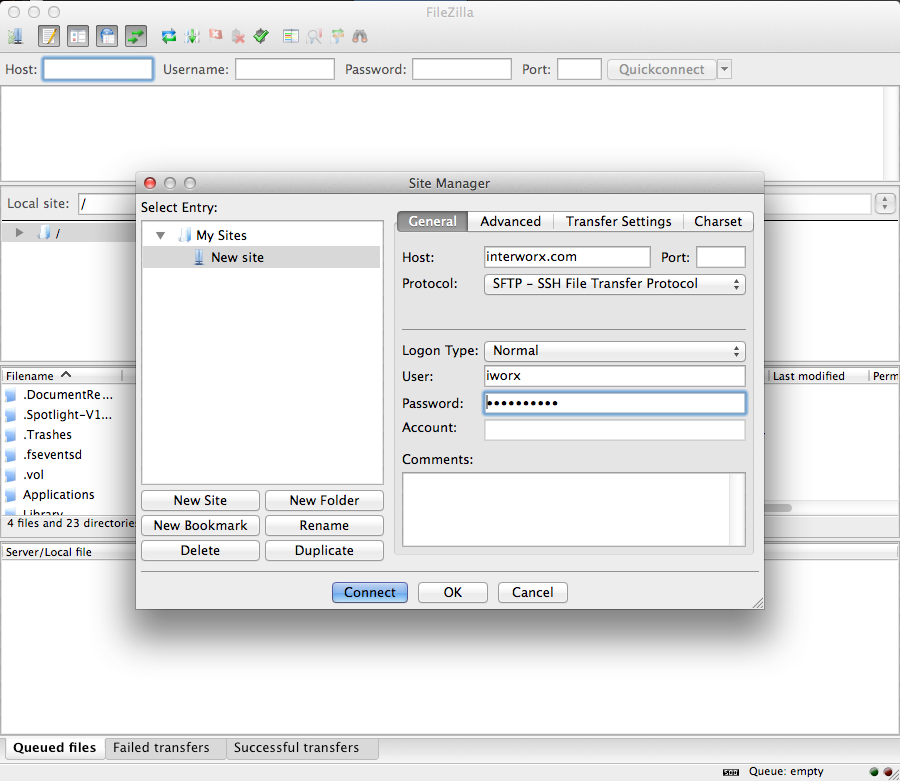 FileZilla 1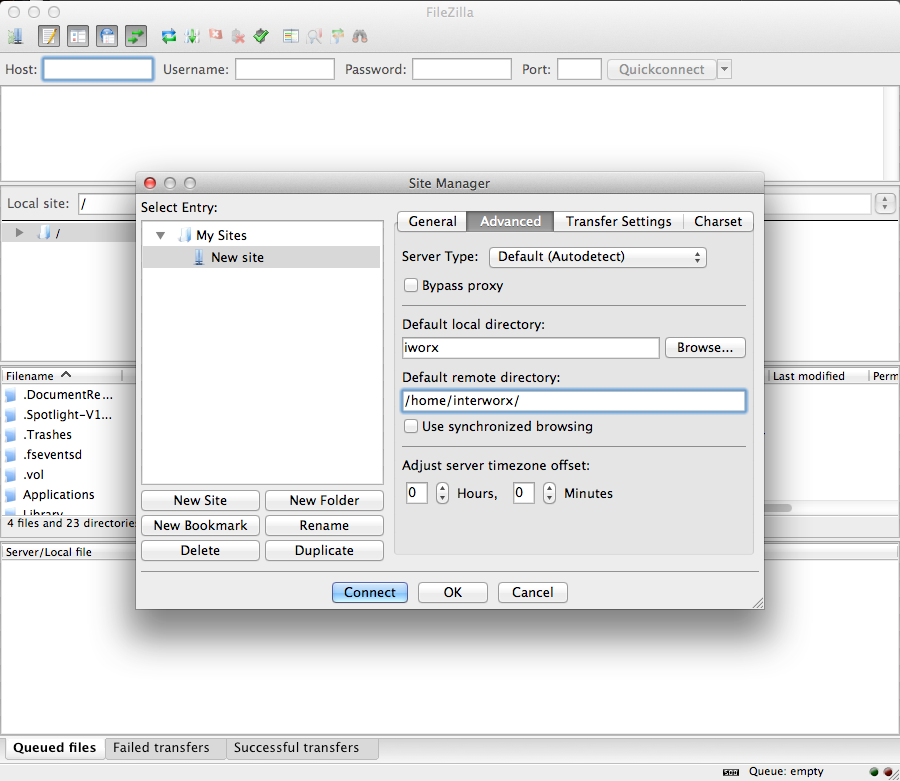 FileZilla 2

Sublime SFTP
The scope of this tutorial assumes you know how to use FTP, but be sure:
You have set your connection to be SFTP and not just plain ol' FTP.
You've successfully given your iworx user a password (Step 1)
4.) Starting your new theme
Once connected, go ahead and download the nodeworx and siteworx folders from the server so that you've got the interworx stock themes stored locally.
Now you should be able to create nodeworx/smarty/templates/yourtheme and siteworx/smarty/templates/yourtheme.
Copy the contents of whichever theme you feel is a good starting point to your themes folder, and start developing. For further instructions, consult the Branding Documentation.
Themes like coolfreshness and vanillaice might be the best places to start seeing as they have minimal files and inherit most files from interworx theme.
5.) Troubleshooting
We don't recommend running these commands on a server you're using for production purposes unless you know what you're doing.
If you're running in to permissions errors trying to access the interworx folder from your SFTP client, you can try running:
chown iworx.iworx ~iworx
The above command should give you full SFTP access so that you may view and download any or all interworx files.  However, your browser won't be able to access InterWorx again until you run:
chown root.iworx ~iworx